Family Vineyards in Temecula Wine Country
Wilson Creek Winery & Vineyard One of many family vineyards. Wilson Creek has been owned and operated since 1996 the Wilson Creek Winery offers wine tasters a one of a kind experience in a relaxed environment to savor many of the their award winning premium wines. Already in 2009 Wilson Creek Winery has won over 10 awards for exceptional vintages. NOTE: as of 2/1/11 Wilson Creek does not accept reservations for groups of 15 or more without a prepaid private tasting. 
Callaway Vineyard and Winery The first Winery opened in the Temecula Valley Wine County Callaway is celebrating their 40th Anniversary of providing California with exceptional wines. The Callaway Winery is most well known for their Muscat Canelli Wine.
Leonesse Cellars Meaning "Village of Dreams" the Leonesse Cellars strives to lead the Temecula Valley Wine Country in providing top quality, world-class wines. Perfectly nestled in the rolling hills their red wines and Chardonnay are expertly aged for longer periods of time preserving their fruity flavors.
Longshadow Ranch Vineyeard and Winery With over 6 generations of experience in the Temecula Valley Wine Country Longshadow Ranch is the perfect outdoor, rustic setting to enjoy their premium vintages. They also offer horse drawn carriage rides through their vineyards.
Baily Vineyard and Winery  Another of many family vineyards. This family owned winery established in 1986 specializes in Bordeaux varieties and have all winemaking facilities from growing to bottling located right on their estate.
Briar Rose Winery Temecula's first reservation only boutique winery offers the visitor a return to old world Temecula Valley, with a small family owned winery. The main estate building was created by a former Disney architect and modeled after Snow White's Cottage.
Doffo Vineyard and Winery Located on 15 acres of vineyards they have created some of the strongest personality wines in the Temecula Region. They focus on producing a small selection of top quality wines each season thus creating premium blends encompassing the Temecula Varietals.
Danza Del Sol  This family owned winery has been producing premium wines for over 20 years. Their top wines include their Cabernet Sauvignon and a German grape Gewurztraminer.
The Hart Family Winery The Hart Family believes in creating small lots of their fine wines matching award winning grape varietals. They annually produce 5000 cases keeping this small lot an expert in premium wines. This is one of many award winning family vineyards in Temecula. 
Keyways Vineyards & Winery The only female owned and managed winery in Southern California, Keyways offers a full range of Whites, Reds and Desert Wines. Their recently renovated grounds and estate bring back the inviting old California Winery feeling.
Maurice Car'rie Vineyard & Winery The Victorian style farmhouse located on the Maurice Car'rie Vineyard Estate create a warm and relaxing environment in their tasting rooms. They specialize in creating wines that are ready to drink and enjoy at an early age.
Miramonte Winery  This Boutique Winery located in the heart of the Temecula Valley where they work hard to create the finest wines possible. The have been one of the most heavily awarded boutique wineries in Southern California.
Monte De Oro With a gorgeous view over looking Temecula valley Monte De Oro combines 21st cen­tury inno­va­tion and centuries-old tra­di­tion in an environmentally-responsible approach to grow­ing its grapes and mak­ing qual­ity wine.
Mount Palomar The winery,vineyards, and citrus groves of Mount Palomar Winery are situated on more than 315 acres in the heart of wine country. They provide guests with breathtaking views of the entire valley filled with meticulously cared for vineyards, a traditional winemaking facility, tasting bars brimming with award-winning wines, and much more.
Oak Mountain Winery The precise location of the winery situated on top of Oak Mountain offers spectacular views of the Temecula Valley. They offer two distinct wineries under the same roof with the Oak Mountain Winery and Temecula Hills Winery both operated by the same owners.
Palumbo Family Vineyards & Winery The Palumbo Family Winery believes in producing wines created only from grapes they grow themselves. The family's grapes are in high demand for purchase by other Temecula Wineries. This is one of many award winning family vineyards in Temecula. 
Ponte Family Winery  This rustic and delightful winery is situated right in the heart of the Temecula Valley they offer both a winery and restaurant on the estate. They are famous for their Pinot Grigio, a super blend called Super T and the world-renowned "Beverino".
South Coast Winery Resort & Spa Recognized as the Golden State Winery of the Year in Southern California for 2008, South Coast Winery offers the visitor award winning wine varietals, luxury spa and world-renowned restaurant all located on the expansive estate.
Stuart Cellars/Bel Vino  The Stuart Family Cellars believe in making wines they would proudly share with their closest friends and family. They combine the wine production processes of the Old World and blend it with new styles of California in order to create a wide range of varietals they can be proud of.
Thornton Winery The Thornton Winery has brought a unique approach to their wine production by combining sparking and still varietals techniques into one process. The French style Chateau over looking the beautiful vineyards and the Temecula Valley.
Wiens Family Cellars The Wiens Family Cellars is famous for their production of "Big Reds" in the Temecula region and are currently striving to produce Bordeaux that will be equivalent to those produced in the Napa Valley.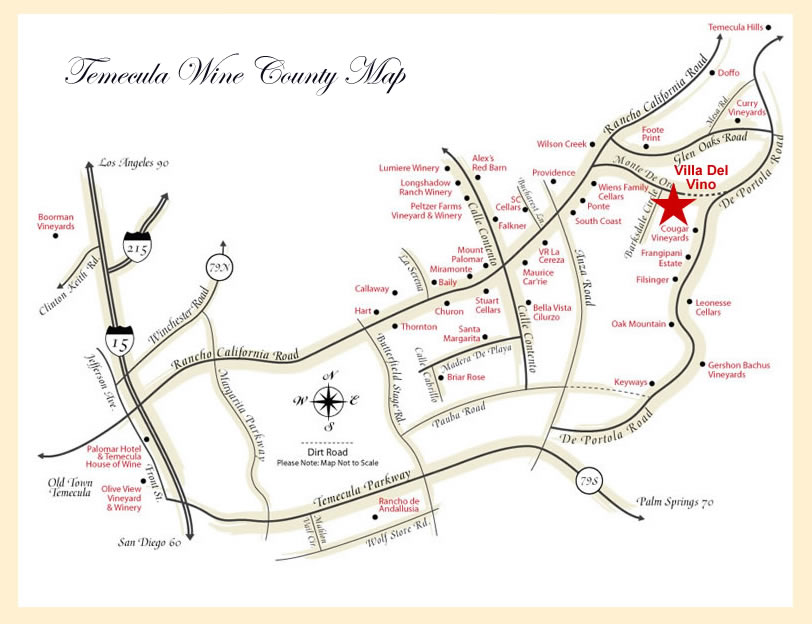 Additional Articles and Vidoes About Temecula Wine Country