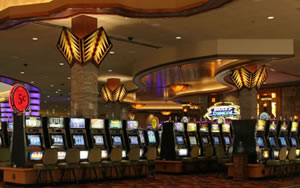 Pechanga Casino…
A vast 188,000 square foot gaming floor makes Pechanga California's biggest casino. A multitude of AAA 4-Diamond amenities and services make Pechanga California's best!
Games
Designed with player comfort in mind, the casino is equipped with a state-of-the-art air filtration system and offers extensive non-smoking areas.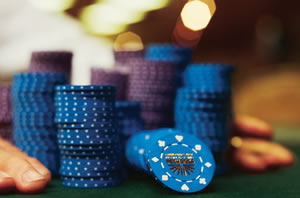 The casino's well-planned layout allows guests to move easily among 2000 state-of-the art slot and video machines and over 160 table games including Blackjack, 3-Card Poker, Pai Gow, Mini Baccarat, and Pechanga Craps.
High Limit Gaming Area
Those who enjoy high stakes wagering will appreciate the amenities and features of the elegantly appointed High Limit Gaming Area complete with an appealing lounge and exclusive cash cage. The separate 54-table Pechanga Poker Room is located on the second floor of the casino, easily accessible by escalator, elevator or stairs. Knowledgeable, courteous dealers and floor staff provide gaming action 24 hours a day, year-round.
Cocktails
Cocktail service is available to guests on the gaming floor and several bars, lounges and restaurants can be found close to the casino action including the aptly named Round Bar, centrally located and elevated at mezzanine level above the gaming floor providing a bird's eye view of the casino action.
Dining
Dining options abound at Pechanga including quick service Mexican, Italian, Asian and American food court choices available at the Festival of Foods situated just off the casino floor.
Visit:  www.Pechanga.com
Other Casinos…
Agua Caliente 
32-250 Bob Hope Drive – Rancho Mirage, CA 92270 – 866-999-1995
Get Directions: 66.5 mi — about 1 hr 31 mins –  HotWaterCasino.com
Augustine Casino 
84-001 Avenue 54 – Coachella, CA 92236 – 760-391-9500
Get Directions: 76.3 mi — about 1 hr 44 mins –  AugustineCasino.com
Barona Resort & Casino 
1932 Wildcat Canyon Road – Lakeside, CA 92040 – 888-722-7662
Get Directions: 67.4 mi — about 1 hr 35 mins  Barona.com
Cahuilla Casino
52702 Hwy 371 – Anza, CA 92539 – 888-371-2692 
Get Directions: 26.7 mi — about 39 mins –  CahuillaCasino.com
Morongo Casino Resort & Spa 
49500 Seminole Drive – Cabazon, CA 92230 – 800-252-4499
Get Directions: 45.5 mi — about 1 hr 17 mins –  MorongoCasinoResort.com
Casino Pauma 
777 Pauma Reservation Road – Pauma Valley, CA 92061 – 877-687-2862
Get Directions: 34.3 mi — about 50 mins –  CasinoPauma.com
Fantasy Springs Resort & Casino 
84-245 Indio Springs Pkwy. – Indio, CA 92203-3499 – 800-827-2946
Get Directions: 72.7 mi — about 1 hr 39 mins –  FantasySpringsResort.com
Golden Acorn Casino 
1800 Golden Acorn Way – Campo, CA 91906 – 866-794-6244
Get Directions: 115 mi — about 1 hr 57 mins –  GoldenAcornCasino.com
Havasu Landing Resort & Casino 
Havasu Lake, CA 92363 – 800-307-3610
Get Directions: 270 mi — about 4 hrs 10 mins –  HavasuLanding.com
La Jolla Band of Luiseno Indians
22000 Hwy 76 – Pauma Valley, CA 92061 – 760-742-1297 
Get Directions: 38.7 mi — about 53 mins –  LaJollaIndians.com
La Posta Casino 
777 Crestwood Rd. – Boulevard, CA 91905 – 619-824-4100 
Get Directions: 118 mi — about 2 hrs 10 mins –  LaPostaCasino.com
Pala Casino Spa Resort 
11154 Hwy 76 – Pala, CA 92059 – 877-946-7252
Get Directions: 26.3 mi — about 38 mins –  PalaCasino.com
Pechanga Resort & Casino 
45000 Pechanga Parkway – Temecula, CA 92592 – 877-711-2946 
Get Directions: 9.8 mi — about 24 mins –  Pechanga.com
Red Earth Casino 
Highway 86 – Salton Sea Beach, CA – 760-395-1200 
Get Directions: 102 mi — about 2 hrs 5 mins –  RedEarthCasino.com
Harrah's Rincon Casino & Resort 
777 Harrah's Rincon Way – Valley Center, CA 92082 – 877-777-2457 
Get Directions: 38.7 mi — about 54 mins –  HarrahsRincon.com
San Manuel Indian Bingo & Casino
777 San Manuel Blvd – Highland, CA 92346 – 800-359-2464
Get Directions: 66.8 mi — about 1 hr 16 mins –  SanManuel.com
Santa Ysabel Casino 
25575 Hwy 79 – Santa Ysabel, CA 92070 – 760-787-0909
Get Directions: 43.6 mi — about 1 hr 1 min –  SantaYsabelCasino.com
Soboba Casino
23333 Soboba Rd – San Jacinto, CA 92583 – 866-476-2626
Get Directions:29.3 mi — about 59 mins –  Soboba.com
Spa Resort Casino 
401 East Amado Road – Palms Springs, CA 92262 – 888-999-1995 
Get Directions: 63.3 mi — about 1 hr 36 mins –  SpaResortCasino.com
Spotlight 29 Casino
46-200 Harrison Place – Coachella, CA 92262 – 866-377-6829 
Get Directions: 74.9 mi — about 1 hr 40 mins –  Spotlight29.com
Sycuan Casino
5485 Casino Way – El Cajon, CA 92019 – 800-279-2826 
Get Directions: 81.8 mi — about 1 hr 43 mins –  SycuanCasino.com